Clip-it USB pogon 4GB* - Bijeli
Ovaj proizvod više nije dostupan
Broj proizvoda: 43900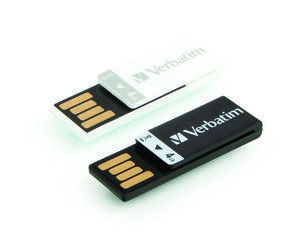 Informacije o proizvodu
fleš memorija u nagrađenom dizajnu,
Besplatna linija za tehničku podršku
Zahtjevi sustava
USB 2.0 / USB 1.1 priključci
Windows 8, 7, Vista, XP
Mac OS 9 ili noviji
Linux 2.4.0 ili noviji
Disk je sertifikovan za operativni sistem Windows Vista.
Softver kompatibilan sa operativnim sistemima Windows 2000 / XP / Vista.
Product Specifications
Težina: 2 grama
Dimenzije: 36 mm x 12,4 mm x 4,5 mm (D x Š x V)
Brzina čitanja: do 10MB/s
Brzina pisanja: do 3MB/s
Interfejs: USB 2.0 Kompatibilan i sa USB 1.1
Napajanje: USB kabl (nisu potrebne baterije)
Sadržaj pakovanja: USB disk.
Ukratko o proizvodu
---
Verbatimov nagrađeni USB disk Clip-it je prvi USB disk koji se može koristiti i kao spajalica. Clip-it, koga je dizajnirao Arman Emami, dobio je prestižnu Red Dot 'Best of the Best' 2010 nagradu.

Verbatimov USB disk Clip-it, dostupan u nizu živih boja, predstavlja kombinaciju fleš diska sa jednostavnom funkcionalnošću spajalice, što ga čini izuzetno praktičnim svakodnevnim rešenjem za poslovne ili privatne korisnike.

Važne informacije:
USB disk Clip-it je potrebno ubaciti u standardni USB priključak, ali okrenutog nagore i u smeru strelice, zbog tehnologije Chip on Board. Ukoliko se ubaci nepravilno, sistem neće prepoznati disk.


Kapacitet: 4GB
Broj proizvoda: 43900
*GB = 1 milijarda bajtova. Dostupni kapacitet za pohranu bit će manji jer uređaj koristi do 10% memorije za formatiranje i druge funkcije. Vidi
www.verbatim.com/flashcapacity
.